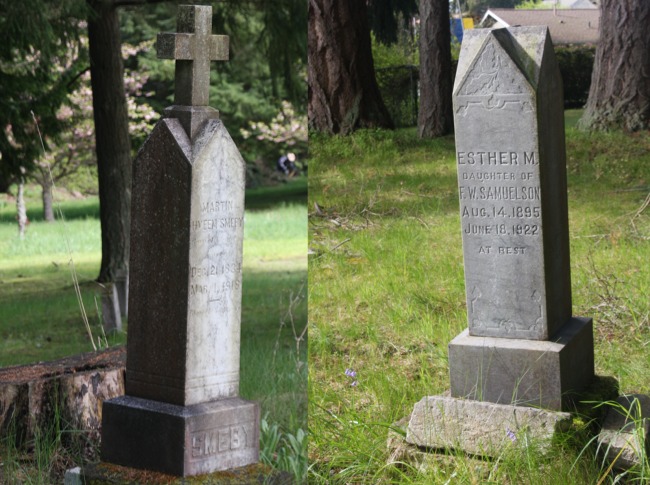 Hales Passage Scandinavian Lutheran Cemetery / Cromwell Cemetery
Hales Passage Scandinavian Lutheran Cemetery is also known locally as Cromwell Cemetery. It is a rural country cemetery located in an area called Cromwell on the outskirts of Gig Harbor Washington near the Fox Island Bridge.

The Cemetery Association was first formed on January 3, 1903, with land donated by Gabriel Evje and F. W. Samuelson. Samuelson and Gabriel Evje each offered to donate one acre of land at the point where their respective lands joined at the county road, on the west side thereof, north of Calvert schoolhouse for cemetery purposes. Said land to be so bounded that the length of the entire tract from north to south shall be 330 feet and the width thereof (east to west) shall be 264 feet.
From original records of 1903

Original members of the Cemetery Association were F. W. Samuelson, Gus Carlson, Julius Berntsen, Rasmus Danielson, and Gabriel Evje.

The Cemetery originally had ties to the Cromwell Immanuel Lutheran Church which was located down the hill on the water. That church was physically moved to a location near Highway 16 in July of 1952 when it merged with 3 other local congregations to become Peninsula Lutheran Church. A new parsonage was built in 1958, an education building was built in 1963 and the new sanctuary was built in 1970.

Hales Passage Scandinavian Lutheran Cemetery/Cromwell Cemetery is a non-profit organization managed by volunteers and is governed by a Board of Directors who follow the Bylaws and Policies set forth. It operates solely on donations, the sale of plots, and burial fees. As a small cemetery in an ever-growing larger community, we strive to stay true to the original intent of our forefathers. We do this by limiting burials to those who have ties to the Cromwell area or have family members buried in the Cemetery.

Cromwell Cemetery is a 'Burial Only' cemetery; meaning that plots are available for purchase; the Cemetery does not conduct funeral services, dig the graves, or install monuments or headstones. Those services are available through a variety of regional businesses.

Currently there are about 350 burials in the Cemetery dating back to 1903 when the cemetery began. The current cost of a plot is $600, and measures 4' x 9' 3 ½ '. One full casket burial is allotted per plot.

Cremains may be buried by family members or by a contractor over a casket if they are 18'' below ground level. A bare plot can hold unlimited cremains. All burials, full or buried cremains require the Application for Burial form to be completed along with a $50 fee that is registered with the Secretary of the Cemetery Association. By law all burials must be recorded with the Secretary.

The Cemetery hosts an annual work party the Saturday prior to Memorial Day weekend. Volunteers weed, clean the stones, mow the grass, trim trees, and a host of other tasks. The cemetery work party is followed by a potluck lunch and an annual meeting across the street at the Sears Farm. It is a slice of Americana that is very special. Everyone is welcome!

CURRENT BOARD MEMBERS
President – Ben Pearson
Vice President -Joyce Sears
Treasurer – Donna Doherty
Secretary – Laurie Dahl Isacson
Board Members – John Gagnon, Doug Holsinger, James Doherty

Should you wish to purchase a plot(s) or receive more information, please click the 'Contact Us' button at the bottom of the page.
---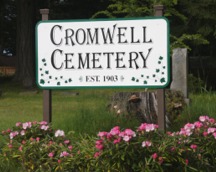 Cromwell Cemetery Association
Laurie Dahl Isacson, Secretary 253-857-2399
2500 62nd Ave NW
Pierce County
Gig Harbor, WA 98335

Mailing Address:
15558 Sunny Cove Drive SE
Olalla, WA 98359

Important Copyright Notice
This website serves as a resource for cemetery and burial information in the Cromwell Cemetery, Gig Harbor, Pierce County, Washington.
Visitors can use the information on this site for their own personal research.

ALL RIGHTS RESERVED. The information you have found on this website is protected by the US Copyright Law, Digital Millennium Copyright Act of 1998.
Individual researchers may print and use the information found on this website for personal use ONLY.
It is not to be copied or altered in any way for commercial use nor for use on another webpage without the written permission of the webmaster.

Copyright 2020
Website Design by Dragonwyck® Web Design L.L.C.



If you have questions or comments about this website,
please contact the Webmaster